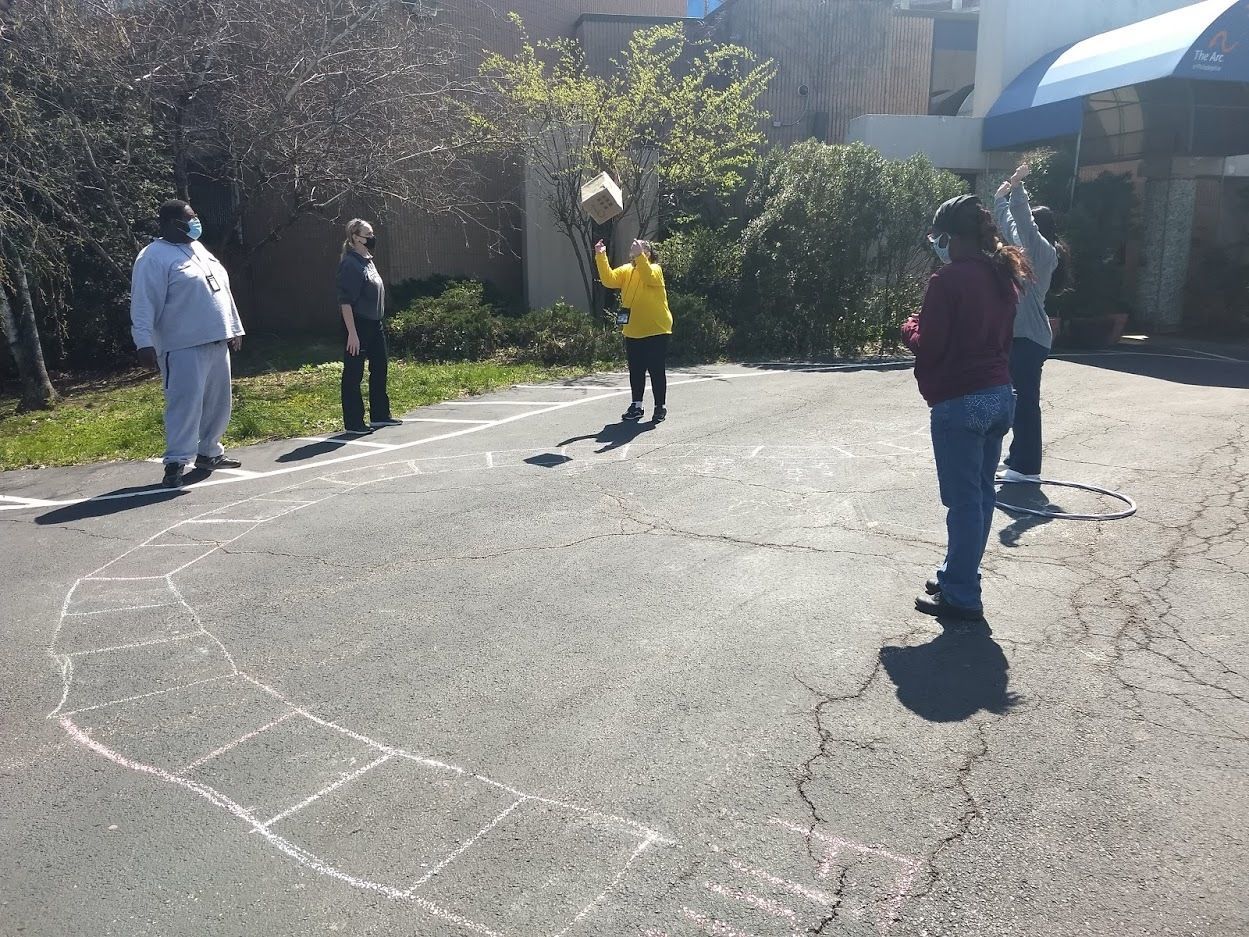 On a beautiful spring day, participants at SpArc Services bounced from square to square on a winding path, designed like a giant board game. At each roll of the giant dice, participants would advance and get instructions for a new movement, activity, or prompt to speak. 
This activity was designed by Sarah and Anita, two Master of Science in Occupational Therapy (MSOT) students from the Jefferson College of Rehabilitation Sciences at Thomas Jefferson University. Sarah and Anita spent their final semester in their Master's program doing fieldwork with The Arc of Philadelphia and SpArc Services. 
Sarah and Anita started the semester with fieldwork on SpArc Service's virtual program, intended for participants who are at home due to the COVID-19 pandemic, away from the typical daily programming at our building. One of the popular activities on the virtual program was Sarah and Anita's "Spin the Wheel," where a digital wheel would spin on the screen with engaging instructions when it landed. This activity engaged each participant because of its multisensory functionality, from visual and auditory stimulation to verbal and movement engagement. 
The students also worked one-on-one virtually with participants, based on a goal that the participant wanted to achieve. They worked on diverse activities such as work-related attire, job acquisition, and interviews. Finally, because of the warm spring weather, Anita and Sarah were able to facilitate small group, socially distanced activities outside, such as the giant board game.
On reflecting on this experience, Sarah and Anita agreed that they used what they learned from the classroom in every interaction. They learned about making sure that the environment, the person, and the task all work together and create a comfortable and inclusive environment.
They also are involved in using this experience to advocate for the population of people with intellectual and/or developmental disabilities (IDD). Sarah said that she is passionate about inclusive medicine, and will be a lifelong advocate for people with disabilities. As a culminating project, Anita and Sarah organized a discussion panel for faculty and fellow students on occupational therapy with adults with IDD. 
The relationship with the Jefferson Occupational Therapy program fits into The Arc of Philadelphia's work on the HealthMeet program, providing  students with experiences and education in the disability community. This semester, we also had students from Drexel College of Medicine, Temple School of Medicine, and the University of Pennsylvania School of Dental Medicine involved in delivering presentations virtually to participants in the SpArc Services virtual program. 
Shane Janick, the Executive Director of The Arc of Philadelphia, said this about HealthMeet and students' participation, "The volunteer opportunities that bring medical students and the community with IDD together have been invaluable for both the students' learning experiences and for the individuals with IDD to learn about their health and take a step towards being more independent when working with healthcare professionals. These interactions fill a gap in most curricula that do not require students to graduate with any course education, clinical experiences, or volunteer opportunities working with people with IDD. As such, social and attitudinal barriers of healthcare professionals attribute to the health inequities the population with IDD experiences. These opportunities bridge the gap to allow providers to effectively engage with their patients with disabilities to promote healthier outcomes together." 
We are very grateful to Sarah and Anita for spending their field work with us!