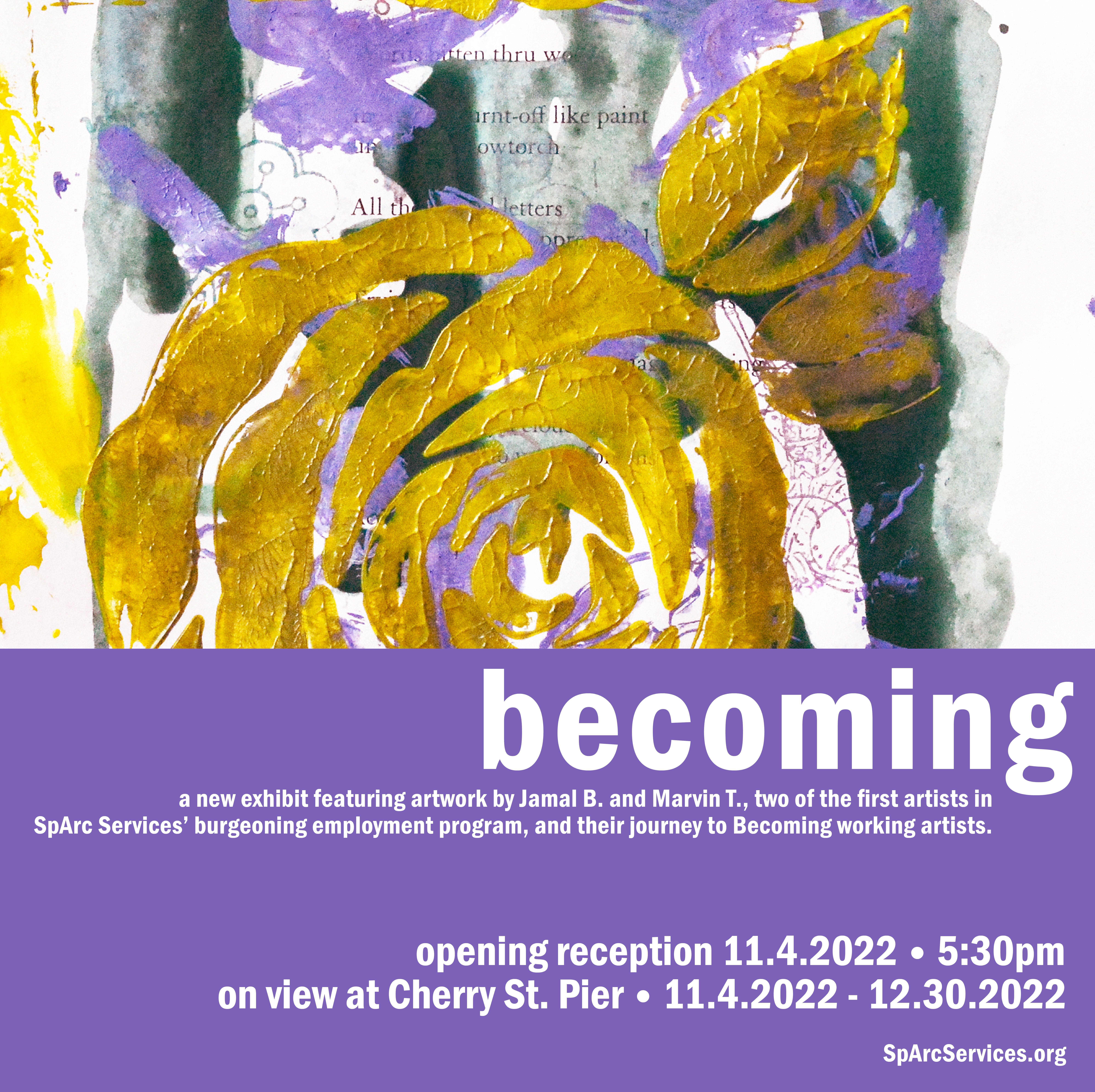 A new exhibit is opening at Cherry Street Pier featuring the works of Marvin T. and Jamal B., participants at SpArc Services who create art at our studio at Cherry Street Pier. 
Marvin and Jamal are the first artists in the SpArc Services employment program, on their way to 'Becoming' working artists. 
Chiong Lin, the art teacher at the Cherry Street Pier Studio, says this about the artists and the exhibit: 
"Becoming" is an exhibit showcasing the work of two artists, Jamal B. and Marvin T. from the SpArc Services employment program, who are on a path to becoming artist/entrepreneurs.
"Becoming" is a good description of the past two years where these artists have experimented and worked to discover the professional identity of being an artist, what that means in general and what it means to each individual.
It is a fleshing out of their skills and their particular way of "mark making" that sets their work apart from other people's art, and provides their art with unique expression. It became an indicator  of success if a customer would walk in and talk about a particular piece of art "speaking" to them. So the art also became a way of communication for program participants who have limited methods of getting their messages across, especially in a verbal manner.
Jamal Browning is technically gifted and his way of seeing is structural, thus he draws houses and urban landscapes with architectural details and shadows in a somewhat realistic if unorthodox manner.   
Marvin does not draw much, and seems to interpret his emotions in abstract forms and colors. He never verbalizes his intentions, but his admirers often see natural elements, such as rocks, fields, and sailboats on the water that he loves to include in the art that he produces.
The exhibit runs from November 4, 2022 to December 30, 2022 in the second floor exhibit hallway of Cherry Street Pier. 
The Opening Reception is on November 4, 2022 at 5:30pm. Join us! To attend the Opening Reception, please RSVP to Gwyn Garrison at ggarrison@sparcphilly.org or 215-229-4550, ext. 160.